Epoxy or epoxy resin for casting and laminating
Epoxy resins (resin) and good quality malleable epoxies. We offer a wide range of high-quality epoxy casting resins. Easily cast clear epoxy resin objects or beautiful epoxy river tables. Make beautiful clear pottings or use epoxy in electronics or optica
-12% Sale

€24,85 € 21,95 € 18,14 Excl. tax

✔ Heat resistant up to 95 ° C
✔ Crystal clear UV-resistant
✔ Shore D75-80
✔ Casting thickness 0.5 mm <> 5mm
✔ 90 minutes working time
✔ Mixing ratio (Weight) 100: 50

Compare

€ 12,50 € 10,33 Excl. tax

✔ Kneading compound, water resistant
✔ Smooth consistency
✔ Many different colors
✔ 0% shrinkage / breakage
✔ 2-3 hours working time
✔ Mixing ratio (Weight) 100: 100

Compare

€ 34,95 € 28,88 Excl. tax

✔ High gloss, Good liquid
✔ Crystal clear, UV resistant
✔ Shore D75-78
✔ Casting thickness: 1 mm <> 5mm
✔ 15-20 minutes working time
✔ Mixing ratio by weight: 100: 90

Compare

€ 14,95 € 12,36 Excl. tax

✔ Heat resistant up to 140 ° C
✔ Can be processed up to 10 kg in one go
✔ Clear, colorless, UV blocker
✔ Liquid as pouring syrup (viscous)
✔ Shore D 90 (hard)
✔ Castings 0.05 mm <> 10 mm
✔ 15 minutes working time *
✔ Mixer. (W

Compare

€ 14,95 € 12,36 Excl. tax

✔ For objects and river tables
✔ Heat resistant up to 80° C
✔ Can be processed up to 60 kg ** in one go
✔ Clear, colorless, UV blocker
✔ Shore D 75
✔ Castings 1 cm <> 10 cm
✔ 40 minutes working time *
✔ Mixer. (Weight) 100:50

Compare

€ 2,50 € 2,07 Excl. tax

✔ Many colors for epoxy casting resins
✔ Colors strongly
✔ Little dye needed

Compare

€ 12,50 € 10,33 Excl. tax

✔ Kneading compound, water resistant
✔ Clay-like texture / Grainy
✔ Colors: white or native
✔ 0% shrinkage / breakage
✔ 1-3 hours working time
✔ Mixing ratio (volume) = 100: 100

Compare

€ 10,50 € 8,68 Excl. tax

✔ Very strong and impact resistant
✔ Clear and highly UV-resistant
✔ Shore D85
✔ Castings 1mm <> 50mm
✔ 20-25 minutes working time
✔ Mixing ratio (Weight) 100: 50

Compare

-3% Sale

€19,50 € 18,95 € 15,66 Excl. tax

20 different proven colors for epoxy casting resins. Add unique effects to your epoxy Resin Art project.

Compare

€ 13,50 € 11,16 Excl. tax

✔ Kneading compound, Strong, very lightweight
✔ Shore D70-75
✔ Max. thickness 40 mm
✔ 20 minutes working time
✔ Mixing ratio (Weight) 100: 100

Compare

€ 39,95 € 33,02 Excl. tax

✔ Coating, sealing, Good liquid
✔ Crystal clear, UV resistant
✔ Shore D70-75
✔ Casting thickness 1 mm <> 20 mm
✔ 15-20 minutes working time
✔ Mixing ratio (Weight) 100: 90

Compare

€ 15,95 € 13,18 Excl. tax

✔ Heat resistant up to 80 ° C
✔ Can be processed up to 10 kg * in 1 go
✔ Clear, colorless, UV blocker
✔ Quite liquid
✔ Shore D 90 (hard)
✔ Castings 1 mm <> 20 mm
✔ 30 minutes working time *
✔ Mixer. (Weight) 100:33

Compare

Shipping

Worldwide

Ordered before 4 pm (Friday before 2 pm) is

Shipped same Day

30 Days

return period!

€ 19,95 € 16,49 Excl. tax

✔ Especially for casting thick objects
✔ Can be processed up to 200 kg ** in one go
✔ Clear, colorless, UV blocker
✔ Temperature resistant up to 80 ° C
✔ Shore D 75
✔ Castings 5 cm <> 20 cm
✔ 40 minutes working time *
✔ Mixer.

Compare

€ 31,75 € 26,24 Excl. tax

✔ Complete Epoxy Resin Art kit
✔ Including four colors
✔ Easy to use

Compare

€ 31,25 € 25,83 Excl. tax

✔ Flexible
✔ Clear, good UV-resistant
✔ Shore A72-80 / D15
✔ Casting thickness 1 mm <> 100 mm
✔ 30-40 minutes working time
✔ Mixer. (Weight) 100:40

Compare

€ 24,95 € 20,62 Excl. tax

Metallic pigments for resin art
Epoxy, polyester, polyurethane

Compare

€ 12,50 € 10,33 Excl. tax

✔ Kneading compound, water resistant
✔ Very fine grain
✔ Very white
✔ 0% shrinkage / breakage
✔ 1 hour working time
✔ Mixing ratio (Weight) 100: 100

Compare

€ 49,50 € 40,91 Excl. tax

Epoxy resin glue
Glueing, filling, sealing, repairing
Easy to use

Compare

€ 29,95 € 24,75 Excl. tax

Variobond is a thixotropic, two component bonding paste based on solvent free epoxy resins and
polyamine adduct hardeners. For bonding various materials such as wood, steel, aluminium, plastics...

Compare

€ 69,50 € 57,44 Excl. tax

✔ Extremely strong, Carbon filled
✔ Malleable, Lightweight
✔ Blue / Gray
✔ Support cover thickness +/- 3 mm
✔ 60-90 minutes working time
✔ Mixing ratio (Weight) 100: 20

Compare

€ 0,- € 0,- Excl. tax

Please note: this product is NOT offered by us due to illegal extraction and child labor.
This material is also offered by others under different names. Pay attention to the composition of a product.

Compare

€ 49,95 € 41,28 Excl. tax

✔ Crystal clear epoxy resin
✔ Food safe coating
✔ Swimming pool, water tank, aquarium, terrarium
✔ Foodgrade

Compare

€ 39,95 € 33,02 Excl. tax

✔ For medium-sized objects
✔ Clear, colorless, With the best UV stability available in Epoxy
✔ Temperature resistant up to 46°C
✔ Shore D 85 to D 21
✔ Castings 1 cm - 9 cm
✔ 19 hours @23 °C*
✔ Mix ratio. (Weight)100:40 to 10

Compare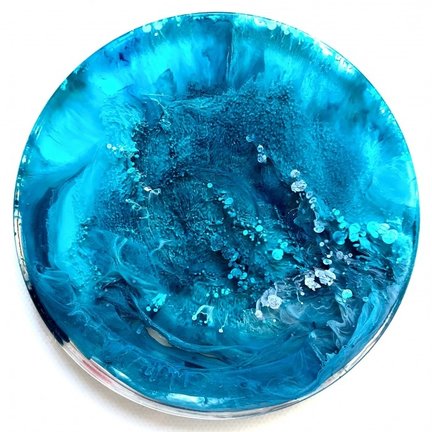 Epoxy is one of the most versatile resins. It is used for gluing, laminating, casting and coating. Epoxy is incredibly strong and some versions can withstand higher temperatures.
With epoxy you can make beautiful table tops with a glow in the dark effect or metal shine. You effortlessly cast a thick, clear object or create a beautiful resin work of art. The possibilities are endless.
There are many different epoxies available, which is why we have listed the best for you here.
Epoxy smells much less strong than polyester and is less sensitive to moisture than poly urethane, but certainly not harmless! Therefore always use liquid-tight gloves and work in a well-ventilated area. Preferably also use safety glasses.
If you have any questions, please contact us. We like to think along with you!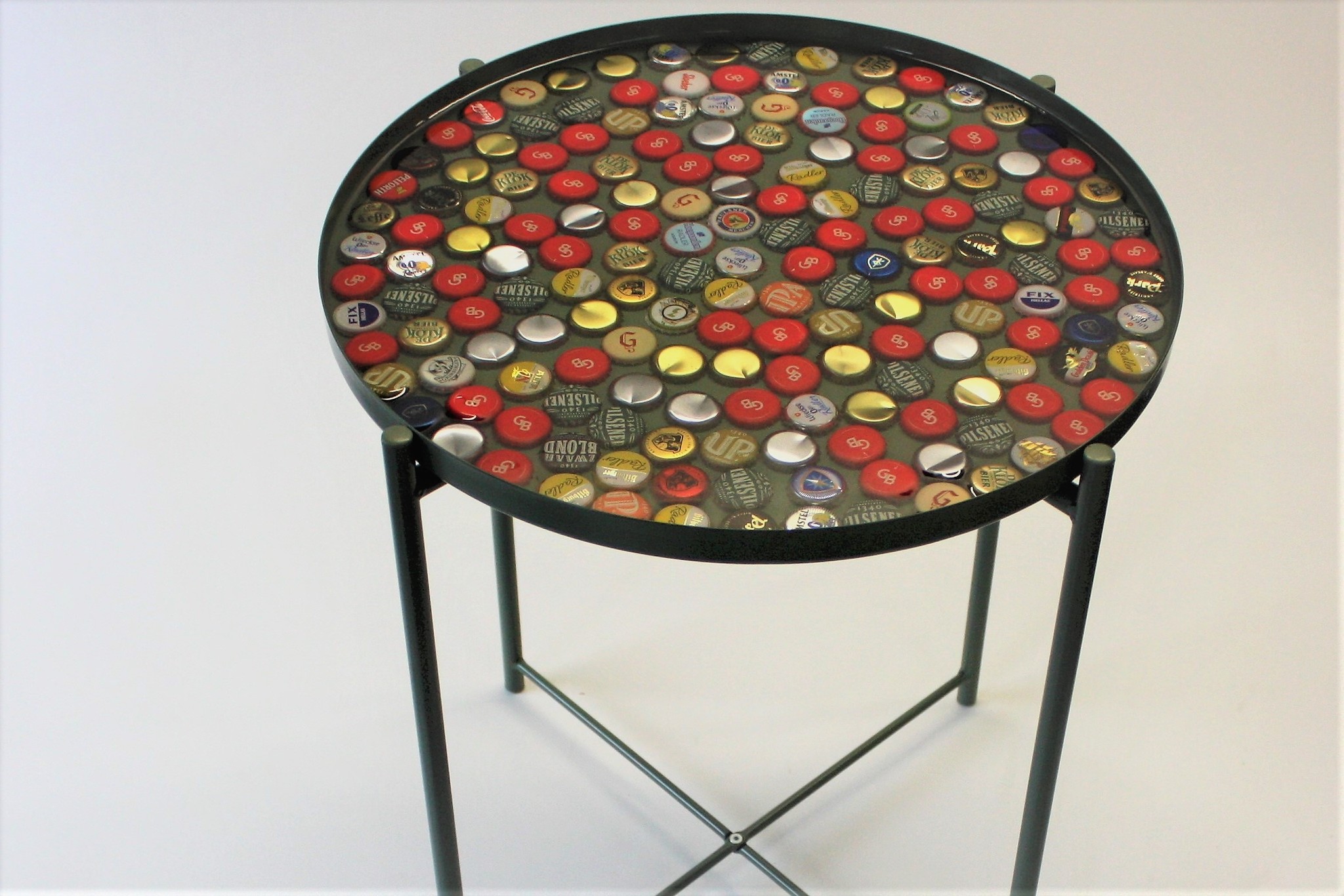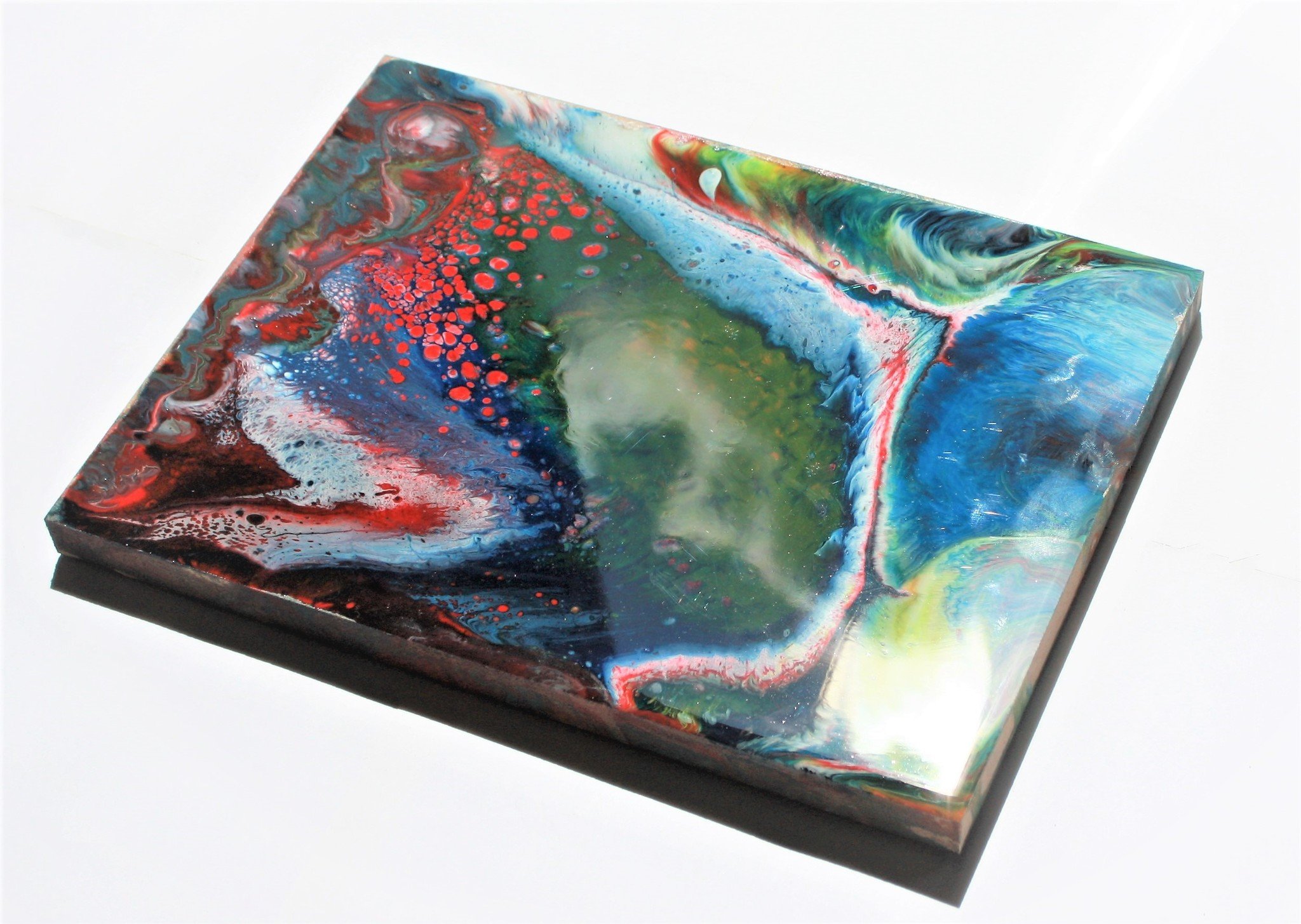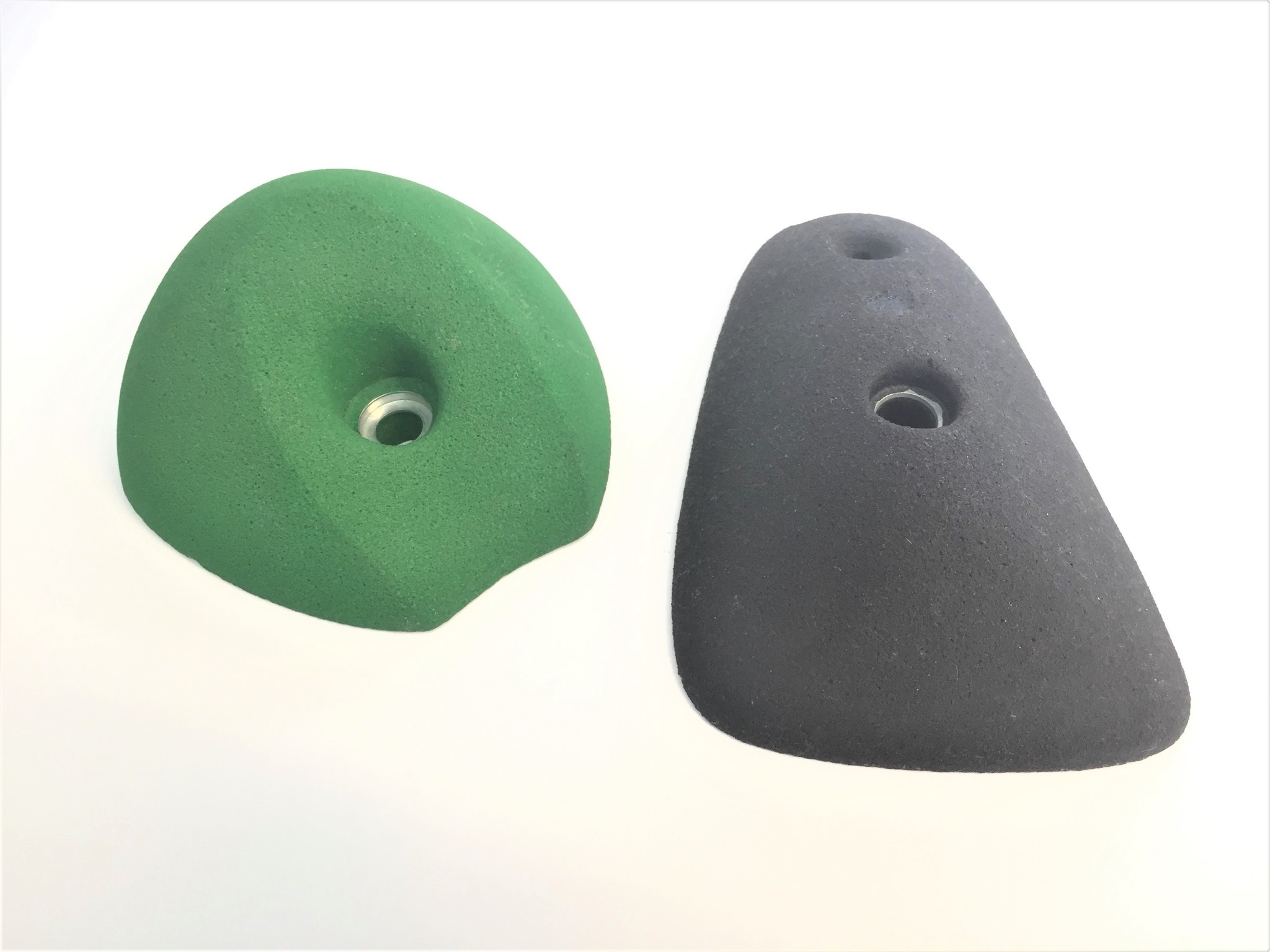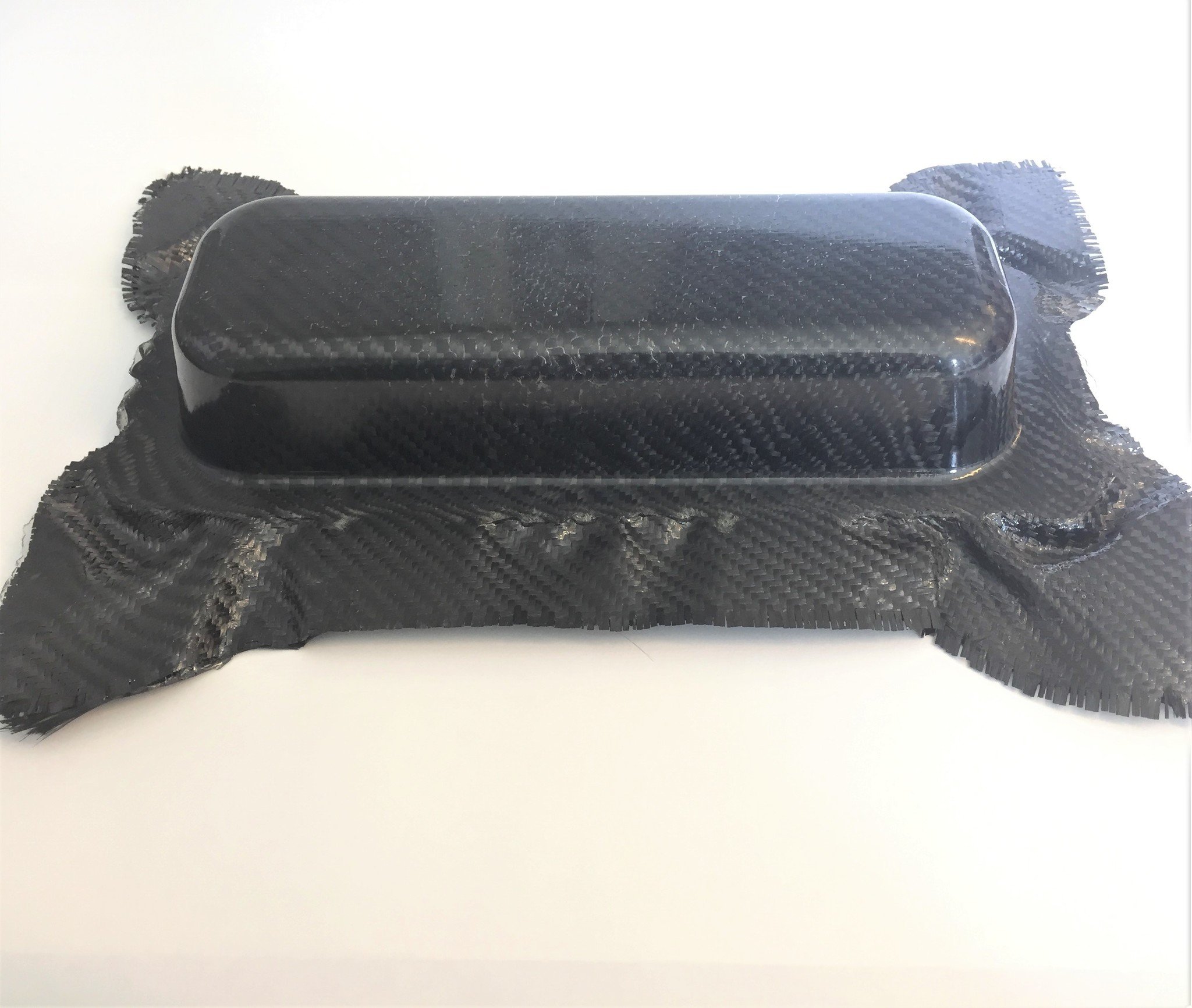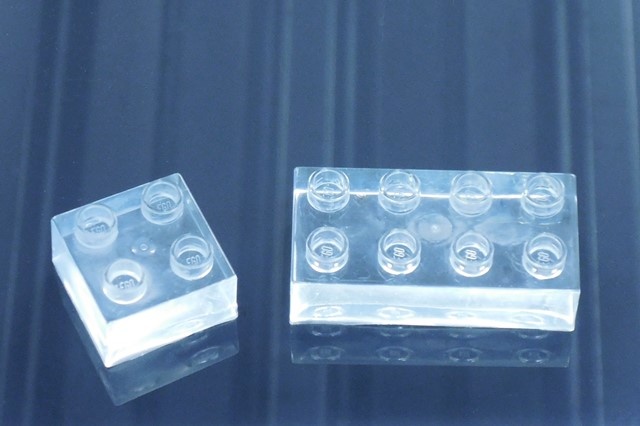 Also have a look in ourvloghow to make a bowling ball yourself!
| | |
| --- | --- |
| Product | Result |
| Epoxy clear | A very easy way to cast small to large beautiful clear objects. This epoxy is UV stabilized. The long curing time ensures a bubble-free casting. Note that the bending temperature is around 55 o C. So this is not epoxy for making coasters for hot coffee cups, for example. |
| Universal Epoxy Resin | An easy to use epoxy for both thin castings and laminating. The epoxy can also be used as an adhesive or topcoat. A fine epoxy for table tops and bars, photo frames, Epoxy resin art, orgonite models etc. Note that the bending temperature is around 55 o C. So this is not epoxy for making coasters for hot coffee cups, for example. |
| Epoxy Resin Art Kit | A complete starter kit to make beautiful resin art yourself. With us you can easily choose 4 different colors in the kit to really get a unique result! Note that the bending temperature is around 55 o C. So this is not epoxy for making coasters for hot coffee cups, for example. |
| Epoxy Support Cap Carbon Set | A beautiful malleable epoxy filled with carbon fibers. With this you can easily make very thin, light strong layers. Suitable for making supporting caps of large shapes. |
| Private label Epoxy Support Glassfiber Set | A good malleable epoxy filled with glass fibers. With this you can easily make very thin strong layers. Suitable for making supporting caps of large shapes. Heavier than the carbon-filled variant. |
| Ultracast XT clear epoxy | A perfect epoxy to apply to a table, bar or kitchen counter. This epoxy can withstand higher temperatures of up to 90 o C. This epoxy can be beautifully colored with color, transparent color or glitter or metal effects and even glow in the dark powder. |
| Apoxie sculpt | The brand for malleable epoxy when it comes to sculpting / sculpting. With this you can easily create beautiful jewelry or fun cosplay objects. Beautifully editable. |
| Apoxie super white | If the end product really needs to be white or if you want to give an apoxia a pastel-like color, then mix it with apoxie super white. |
| Apoxie clay | The perfect combination of a malleable epoxy with the structure of clay. Simply mold beautiful objects that harden into a beautiful plastic. Easy to edit before and after curing! |
| Aquapox | A high-quality professional epoxy intended for sealing or covering surfaces. The result is an environmentally friendly even food-safe surface suitable for (marine) aquariums up to and including drinking water storage. |
Read more
Close