Release agents and Primers
You often want your mold or original or casting not to stick. In that case, a release agent can be very sensible. Does a casting have to stick? check out our primers!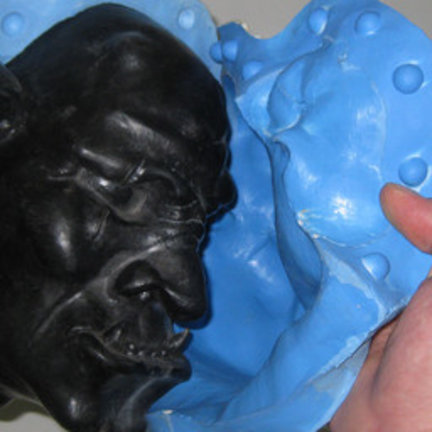 Adhesion / or release
When it comes to bonding, we make a distinction between a chemical bond and a mechanical bond.
Chemical bonding occurs when the molded material is able to chemically bond to the surface it comes into contact with.
If chemical bonding is not desired, a protective layer must be applied. This often works well with polyvinyl alcohol (PVA), vaseline wax or anything else that makes the surface greasy.
Note that some release agents make the mold less shiny. That is often a less desirable effect.
If chemical adhesion is desired, make sure that the surface is as rough as possible and has been degreased with, for example, isopropanol.

Mechanical bonding. This is the case when the material hardens and is partly located in the contact surface or in deep grooves or recesses in the contact surface.
Mechanical bonding therefore takes place with porous material that partially absorbs the cast resin or silicone. If it then becomes hard, there is adhesion. This is often not desired. It is then important that a release agent is used that fills the pores of the porous material and preferably also leaves a layer on the material. you can think of wax, vaseline or PVA. Note that some release agents dissolve in some resins and are therefore less useful.
If mechanical adhesion is desired, we recommend making the surface as rough as possible (often just sanding) and grinding slots and grooves where possible.
Read more
Close