Dimethicone copolyols, emulsifiers for cosmetics
Emulsifiers in the shape of copolyols like PEG 12 with higher value HLB
€ 31,58 € 26,10 Excl. tax

A silicone copolymer soluble in water, alcohol and hydroalcoholic systems
✔ Reduces surface tension
✔ Foaming agent
✔ Wetting agent ✔
Emulsifying agent for Silicone-Water

Compare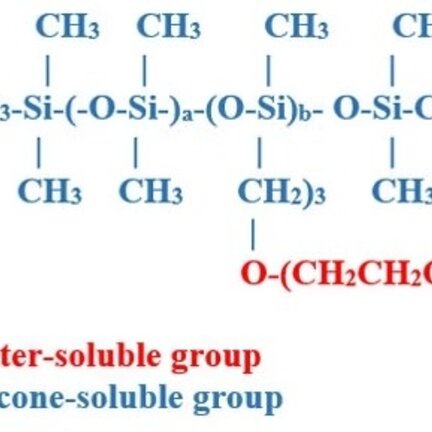 Silicone surfactants are synthesised to contain both silicone and water-soluble groups within the same molecule. The result is a series of compounds with varying and controllable levels of solubility in oil, water and silicone. One of the common silicone surfactant is dimethicone copolyol.
Dimethicone copolyol is an amphiphilic compound designed to assist in the preparation of water-in-silicone or siliconein- water emulsions. There are various types of dimethicone copolyol in the market, offering an array of HLB values (Table 3), arising due to the presence of two or more mutually insoluble groups. Typically, a low HLB, silicone-soluble (siliphilic) siloxane backbone coupled with a higher HLB, more water-soluble (hydrophilic) polyoxyalkylene component. Commonly, either polyethylene glycol (PEG), polypropylene glycol (PPG) or both are grafted onto a polydimethylsiloxane backbone in varying ratios.
Cyclopentasiloxane (and) PEG/ PPG-18/ 18 Dimethicone (Fig. 4) is one type of the dimethicone copolyol widely used to prepare water-in-silicone emulsions commonly found in antiperspirant, skin care and colour cosmetic formulations. The material's low surface tension and effective wetting properties serve to provide a unique and gentle skin-feel while stabilising the emulsion.
Wetting is a surface effect to characterise the behaviour of a liquid droplet deposited onto a solid/liquid substrate. For example, a water droplet placed onto a plastic sheet will form a tight sphere indicating poor wetting effect. If a wetting agent is then added to the water, the droplet will not form a sphere but spread-out across the surface of plastic sheet. The Draves test is an established method to determine wetting effect; it measures and compares the time taken for a cotton 'skein' to sink into a test solution, at a prescribed temperature. The shorter the time, the better wetting agent performs. This test uses a 0.1% solution of dimethicone copolyol (Table 2).
Overall, lower molecular weight PEG/PPG polymers offer faster wetting properties compared to high molecular weight counterparts. This means that a rapid wetting effect can be achieved by appropriate selection of a dimethicone copolyol's molecular weight.
Lowering surface tension is one of the major properties of silicone surfactant. Fatty components of a molecule, rich in methylene groups (-CH2-), limit the surface tension within a range around 30 dynes/cm2. Silicone surfactants, however with a predominance of methyl groups (-CH3), reduces achievable surface tension at a much lower level in the region of 20 dynes/cm2.
PEG/PPG dimethicone is used as an emulsifier in the preparation of water-in-oil and silicone-in-water emulsions. It can be used to prepare products that contain low concentrations of wax and a high concentration of water offering creams and lotions with a light and easy-spreadable skin feel. PEG/PPG dimethicone can easily structure itself, along the Si-O-Si bonds, to adopt the lowest free energy state. This enables the production of emulsions with a usefully low free energy thereby providing enhanced stability. A high surface activity offers other advantages compare to conventional w/o emulsifiers. For instance, water-in-silicone emulsions prepared with silicone emulsifiers can be produced using cold-processing techniques. This emulsifier route is widely used in colour cosmetic formulations (Formulation 3) as it improves the spreadability and levelling of colour pigment.
PEG/PPG dimethicone should be added and mixed into the silicone phase or oil phase in the preparation of silicone-inwater emulsion or water-in-oil emulsions. For ease it is ideal to prepare the water phase in a separate tank. Electrolyte such as sodium chloride should be pre-dissolved into the water phase to viscosify and help develop a stable emulsion. Add the water phase slowly into the silicone phase or oil phase to ensure complete and uniform emulsification. Mix with a high turbulence mechanical mixer at high speed. Continue high shear mixing for 10-30 minutes to generate small particle size distribution and homogenise if necessary. No heat is required during emulsification.
Read more
Close