ornaments
How to copy ornaments using silicone molds
€ 5,95 € 4,92 Excl. tax

✔ Fine ceramic powder with high density
✔ White, paintable
✔ Exceptionally hard
✔ Powder: water = 4: 1
✔ Working time: 6 minutes
✔ De-mold time: 30 minutes

Compare

€ 14,48 € 11,97 Excl. tax

✔ Flexible, Strong, Universal
✔ White, Good Fluid, Bleeding
✔ Shore (A) 23 ~ 28
✔ Low shrinkage (<0.3%)
✔ 60 minutes working time
✔ Mix ratio (Weight) 100:2

Compare

€ 15,95 € 13,18 Excl. tax

✔ Odorless, Environmentally Friendly, Fire Resistant
✔ Cream white, Strong, UV Stable
✔ Shore D 80
✔ Shrink-free
✔ 20 minutes of working time
✔ Mixing ratio (Weight) 100: 50

Compare

€ 14,75 € 12,19 Excl. tax

✔ Kneading compound, water resistant
✔ Smooth consistency
✔ Many different colors
✔ 0% shrinkage / breakage
✔ 2-3 hours working time
✔ Mixing ratio (Weight) 100: 100

Compare

€ 163,- € 134,71 Excl. tax

The C-Glass fabric can be applied in different processes (e. g. by using low pressure) in order to achieve visually and chemically improved surfaces. The binder disperses quickly in the resin, therefore it is possible to handle complex geometries and

Compare

€ 70,75 € 58,47 Excl. tax

✔ Flexible, Strong
✔ Pink
✔ Shore (A) 10 (Soft)
✔ Low shrinkage (<0.1%)
✔ 40 minutes of working time
✔ Mixing ratio (Weight) 100: 100

Compare

€ 19,45 € 16,07 Excl. tax

✔ Flexible, Strong, good resistance to pu and epoxy
✔ White, Good Fluid, Bleeding
✔ Shore (A) 23 ~ 26
✔ Low shrinkage (<0.3%)
✔ 120 minutes working time
✔ Mix ratio (Weight) 100: 5

Compare

€ 9,95 € 8,22 Excl. tax

This plaster is perfect for making support caps for molds from alginate or silicone

Compare

€ 33,50 € 27,69 Excl. tax

✔ Flexible, Strong, Fast
✔ Beige, Good Fluid, Non-Bleeding
✔ Shore (A) 23
✔ Low shrinkage (0.2 ~ 0.4%)
✔ 30 minutes working time
✔ Mixing ratio (Weight) 100: 5

Compare

€ 31,50 € 26,03 Excl. tax

✔ Flexible, Strong
✔ Green
✔ Shore (A) 30 (Hard)
✔ Low shrinkage (<0.1%)
✔ 60 minutes working time
✔ Mixing ratio (Weight) 100: 100

Compare

€ 449,- € 371,07 Excl. tax

✔ Odorless, Environmentally Friendly, Fire Resistant
✔ Beige, Strong, UV Stable
✔ Shore D 85
✔ Shrink-free
✔ 20 minutes working time
✔ Mixer. (Weight) 100:50

Compare

€ 4,95 € 4,09 Excl. tax

✔ Provides a protective layer against poisoning from addition-hardening silicone
✔ Easy to process
✔ Soluble in water

Compare

Shipping

Worldwide

Ordered before 4 pm (Friday before 2 pm) is

Shipped same Day

30 Days

return period!

€ 6,50 € 5,37 Excl. tax

✔ For reinforcement in acrylic resin, silicone or polyester.
✔ Easier to drape than a regular fabric.
✔ 160 g / m²

Compare

€ 33,50 € 27,69 Excl. tax

✔ Flexible, Strong, High PU and polyester resin resistance
✔ Beige, Good Fluid, Non-Bleeding
✔ Shore (A) 18 ~ 21
✔ Low shrinkage (0.2 ~ 0.4%)
✔90 ~ 120 minutes working time
✔ Mixing ratio (Weight) 100: 5

Compare

€ 16,50 € 13,64 Excl. tax

✔ Release spray for silicone
✔ Provides a good release
✔ Matting
✔ Wax-based
✔ 0.75 g / cm³

Compare

€ 31,50 € 26,03 Excl. tax

✔ Flexible, Strong
✔ Yellow
✔ Shore (A) 25 (Moderately Hard)
✔ Low shrinkage (<0.1%)
✔ 60 minutes working time
✔ Mixing ratio (Weight) 100: 100

Compare

€ 4,35 € 3,60 Excl. tax

✔ Microscopic small glass beads
✔ Makes the end product lighter
✔ Increases the maximum casting thickness
✔ Extends the processing time

Compare

€ 13,25 € 10,95 Excl. tax

✔ For reinforcement in acrylic resin, polyurethane / PU, polyester and silicone
✔ Smoother, thinner and finer than A1 triaxial glass fiber cloth
✔ 200 g / m²
✔ Conducts electricity very poorly

Compare

€ 16,50 € 13,64 Excl. tax

✔ Release spray for silicone
✔ Provides a good release
✔ Matting
✔ Wax-based
✔ 0.75 g / cm³

Compare

€ 10,- € 8,26 Excl. tax

✔ For reinforcement of polyester, polyurethane, epoxy, acrylic resin and silicone
✔ A cheap filler
✔ Easy to dose

Compare

€ 89,18 € 73,70 Excl. tax

✔ Flexible, Strong, good resistance to polyester
✔ White, Good Fluid, Bleeding
✔ Shore (A) 23 ~ 26
✔ Low shrinkage (<0.3%)
✔ 120 minutes working time
✔ Mix ratio (Weight) 100:5

Compare

€ 31,50 € 26,03 Excl. tax

✔ Complete starter kit
✔ Contains the popular Condensation 20 silicones and more
✔ Ideal for soap molds, candle molds or concrete molds

Compare

€ 199,- € 164,46 Excl. tax

✔ Strong, fiberglass filled
✔ Malleable
✔ Blue
✔ Support cover Thickness +/- 5 mm
✔ 20-30 minutes working time
✔ Mixing ratio (Weight) 100: 5

Compare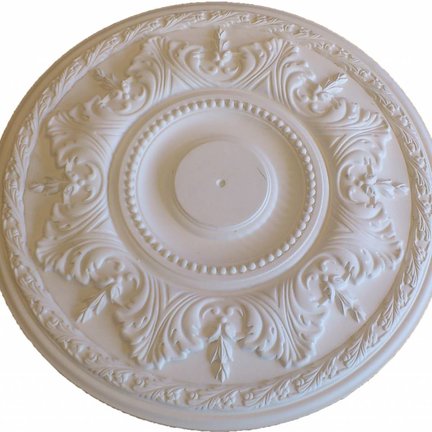 Ornaments are a wonderful way to decorate a building. You can invent and make ornaments yourself, or repair an existing ornament or duplicate an ornament so it can be used in another place.
For all of these applications silicones are the material of choice to make molds of your ornaments with. When you create the ornament yourself from clay or another material, you can use silicone to make a mold and make many reproductions with concrete, cement, plaster, acrylic resin etc.
If you want to copy or repair an ornament that cannot be taken down from the wall or from the ceiling you can simple thicken the silicone and brush it against the ornament. When it has hardend you can make a support cap so the silicone mold will keep its shape.
For models or originals that are very porous or soak up oil easily we advise the use of addition curing silicone as this will stain less. It is even better to protect the surface with poly vinyl alcohol. THis can later be washed off with water (please do a small test first).
Silicones are thickened with thixo or fused silica powder. Support Caps are esay to make withsupport cap epoxy or acrylic resin or plaster with fiberglass mats.
Read more
Close