Wax dyes
These dyes processed in small wax flakes can be perfectly dosed and mixed with all candle waxes and many other waxes.
€ 8,75 € 7,23 Excl. tax

✔ Suitable for many types of wax!
✔ For casting (colouring through and through): 1 to 2 grams per kg.
✔ For dipping: 10 to 15 grams per kg. paraffin
✔ Many colors available
✔ Professional material

Compare

€ 9,95 € 8,22 Excl. tax

✔ 6 intermixable colors
✔ For bright or pastel shades
✔ High pigment content dyes
✔ A few flakes are enough for a saturated color
✔ Easy to mix with paraffin wax

Compare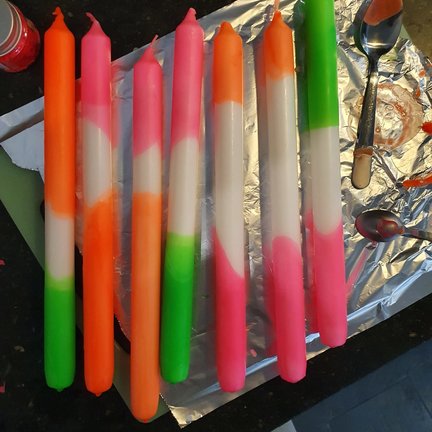 Here you will find dyes to easily color your wax.
The more coloring you add, the stronger the color.
Which color is ultimately achieved depends very much on which wax has to be colored and whether that wax already has a color and how thick the wax is applied.
For example, a dip wax must be colored more intensely to give the thin shell of wax the same color intensity as a throughly colored cast wax.
Read more
Close