masks
Create flexible and hard plastic masks
€ 9,50 € 7,85 Excl. tax

✔ 100% Natural, 100% Safe
✔ Discolored from Pink to White
✔ Relatively strong after gelling
✔ 5.5 minutes de-mold time at 21 ° C Water
✔ Mixing ratio (Weight) [gel: water] 1: 4

Compare

€ 9,50 € 7,85 Excl. tax

✔ Food Safe / FDA Approved (if mentioned)
✔ Intense coloring (you only need a litlle)
✔ Uniform coloring
✔ Easy to mix in

Compare

€ 40,95 € 33,84 Excl. tax

✔ Elastic, Non-Toxic, Sulfur-Free
✔ Red / Brown, Does not dry out
✔ Oil-based Clay
✔ Reusable, Pourable
✔ Melting temperature 57.2 ⁰C

Compare

€ 28,95 € 23,93 Excl. tax

✔ Flexible, Strong
✔ Translucent
✔ Shore (A) 5 (Very soft)
✔ Low shrinkage (<0.1%)
✔ 30 minutes working time
✔ Mixing ratio (Weight) 100: 100

Compare

€ 16,99 € 14,04 Excl. tax

✔ Hard, Non-Toxic, Sulfur-Free
✔ Different brown / gray tones, Does not dry out
✔ Wax based Clay
✔ Fully meltable
✔ Melting temperature 85⁰C

Compare

€ 40,95 € 33,84 Excl. tax

✔ Elastic, Non-Toxic, Sulfur-Free
✔ Gray, Does not dry out
✔ Oil-based Clay
✔ Reusable, Pourable
✔ Melting temperature 57.2 ⁰C

Compare

€ 24,50 € 20,25 Excl. tax

✔ Flexible, Strong
✔ Transparent
✔ Shore A 40 (Adjustable)
✔ Low shrinkage (<0.1%)
✔ 60 minutes working time (Adjustable)
✔ Mixing ratio (Weight) 100: 10

Compare

€ 24,50 € 20,25 Excl. tax

✔ Flexible, Strong
✔ Transparent
✔ Shore A 15 (Adjustable)
✔ Low shrinkage (<0.1%)
✔ 60 minutes working time (Adjustable)
✔ Mixing ratio (Weight) 100: 10

Compare

€ 380,- € 314,05 Excl. tax

✔ Very Flexible, Skin Safe
✔ Great for masks, robotics and dolls, etc.
✔ Colorless cloudy
✔ Shore (A) 00-35 (Very Very soft)
✔ Low shrinkage (<0.1%)
✔ 6-8 minutes working time
✔ Mixing ratio: 100: 100

Compare

€ 57,- € 47,11 Excl. tax

✔ 100% Natural, 100% Safe
✔ Discolored from Pink to White
✔ Relatively strong after gelling
✔ 5.5 minutes de-mold time at 21 ° C Water
✔ Mixing ratio (Weight) [gel: water] 1: 4

Compare

€ 24,50 € 20,25 Excl. tax

✔ Flexible, Very fast, Strong
✔ Transparent
✔ Shore (A) 40 (Adjustable)
✔ Low shrinkage (<0.1%)
✔ 2 minutes working time (Adjustable)
✔ Mixing ratio (Weight) 100: 10

Compare

€ 28,95 € 23,93 Excl. tax

✔ Flexible, Strong
✔ Translucent
✔ Shore (A) 50 (Hard)
✔ Low shrinkage (< 0.1 %)
✔30 minutes working time
✔ Mixing ratio by weight: 100:100

Compare

Shipping

Worldwide

Ordered before 4 pm (Friday before 2 pm) is

Shipped same Day

30 Days

return period!

€ 9,95 € 8,22 Excl. tax

This plaster is perfect for making support caps for molds from alginate or silicone

Compare

€ 24,50 € 20,25 Excl. tax

✔ Flexible, Very fast, Strong
✔ Transparent
✔ Shore (A) 15 (Adjustable)
✔ Low shrinkage (<0.1%)
✔ 2 minutes working time (Adjustable)
✔ Mixing ratio (Weight) 100: 10

Compare

€ 10,89 € 9,- Excl. tax

Flocking is a easy and fun way to add color and texture to relief designs. Flocking is also used in the SFX scene for the realistic imitation of skin.

Compare

€ 19,- € 15,70 Excl. tax

✔ 100% Natural, 100% Safe
✔ Discolored from Pink to White
✔ Relatively strong after gelling
✔ 5.5 minutes de-mold time
✔ Mixing ratio (Weight) [gel: water] 1: 4

Compare

€ 105,95 € 87,56 Excl. tax

Water-fillable sculpture busts from The Monster Makers. Create your sculpture. Fill with warm water and your sculpture will come off easily. These Sculpture Busts are very strong and will therefore last for years.

Compare

€ 19,95 € 16,49 Excl. tax

✔ Moderately Hard Modeling Wax, Not grainy
✔ Copper colored, Block
✔ No shrinkage
✔ Pour point 61 ° C
✔ Melting point 65 ° C
✔ Ash content after combustion <0.03%

Compare

€ 16,99 € 14,04 Excl. tax

✔ Hard, Non-Toxic, Sulfur Free
✔ Smooth, Sticky
✔ Red-Brown, Does not dry out
✔ Very smooth structure
✔ Fully meltable
✔ Working temperature room temperature

Compare

€ 32,50 € 26,86 Excl. tax

✔ Very good adhesion to silicone substrates
✔ High elongation
✔ High reactivity
✔ Neutral odour and taste (FDA)
✔ Excellent stability and flexibility at low temperatures
✔ Suitable for compliance with the food contact regulations

Compare

€ 54,- € 44,63 Excl. tax

✔ Pasty, Splashable, Skin-friendly
✔ Light pink
✔ Shore (A) 22
✔ Low shrinkage (<0.1%)
✔ 10 minutes working time
✔ Mixing ratio. (Weight) 1: 1

Compare

€ 24,95 € 20,62 Excl. tax

✔ Flexible, Very Soft, Skin Friendly
✔ Light skin color
✔ Shore (A) 00-20 ~ 25 (Very Very soft)
✔ Low shrinkage (<0.1%)
✔ 2 minutes working time
✔ Mixing ratio (weight) 100: 100

Compare

€ 16,99 € 14,04 Excl. tax

✔ Non-Toxic, Sulfur Free
✔ Meltable and brushable on CNC foam
✔ Gray, Does not dry out
✔ Very smooth structure
✔ Fully meltable, reusable
✔ Melting temperature 83-93 ° C

Compare

€ 9,50 € 7,85 Excl. tax

✔ 100% Natural, 100% Safe
✔ Discolored from Purple to Blue
✔ Suitable for bust, belly print, face
✔ Relatively strong after gelling
✔ 12 minutes de-mold time at 21 ° C Water
✔ Mixing ratio (Weight) [gel: water] 1: 4

Compare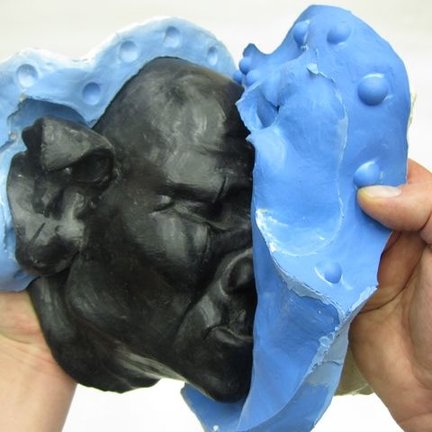 Making a lifelike mask yourself is possible with silicone! These masks will feel and move like real skin and can be shaped in many ways. There are many YouTube movies on how to make silicone masks.
Making a realistic mask requires practice!
Because silicone is hard to paint the base color is often added to the silicone when mixing. Further coloring is done in very thin layers by using the same silicone in the desired colors. Often, the silicone is dissolved in toluene or thinnner to spray it with an air brush.
Note that addition curing silicone does not adhere well. It works best when you work on a still tacky silicone layer
Of course you can also make a hard plastic mask of poly urethane. Polyurethan is very easy to finish and rework.
Read more
Close