Making an impression of body parts
Lifecasting or Bodycasting is fine with silicone that is skin-friendly and fast, but much easier with alginate 3D-gel.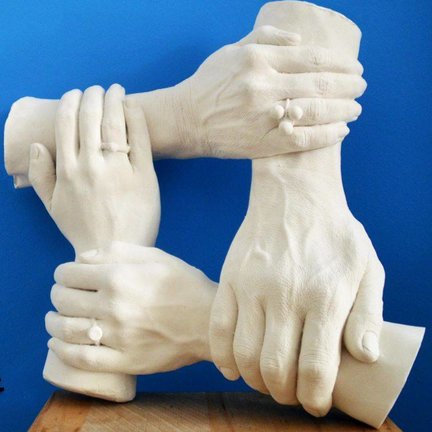 Bodycasting
Forming a hand or foot provides a valuable gift or a beautiful memory. You can make a copy of almost any part of your body!
Usually a single-use alginate 3D gel mold is used. Alginate is dried seaweed powder and therefore harmless. Our alginate 3D gel mixed with water is very liquid and therefore especially suitable for "pouring" or immersing something. If you still want to lubricate it, you can add less water.
You can also work with a very fast silicone, but make sure you use Vaseline to prevent hairs from being pulled out. Also with the use of vaseline there is still the chance that eyebrows and eyelashes stick, so always be careful and do a small test first.
Both the alginate and the silicone shape of a body part need a support cap. If you have cast the silicone or alginate in a container around the body part, the support cap is usually the casting container. Otherwise you have to use for example plaster cast.
You can pour different materials into the mold. In the alginate you can pour plaster and silicone, or even chocolate. Please note: water-sensitive products such as polyurethane should not be poured into an alginate mold! If you like to make polyurethane castings you better use a silicone mold or first cast a plaster in alginate and then make a silicone mold into which you can then pour the polyurethane.
If you have any questions, please contact us. We are happy to think along with you!
Of course you can also look at ourmanualsor online at YouTube for great ideas!

Bodycasting Sets: A ready-made set with alginate powder and plaster, to easily make a cast.
Alginate 3D-Gel:  A loose pack of alginate if you think you need more, for example in a larger finishing bin or when making a larger hand wreath.
Gypsum / modelling plaster: For molds, reliefs, models, ornaments and reproductions. One of the most popular products for bodycasting.
Gilding Wax: A wax for creating an old metallic look. Easy to apply. 
Bodycasting Primer Black: We advice to use this primer together with Gilding Wax. This way you will get the best result. 
Silicone Transparant 15 and 40 fast: These are fast-hardening skin-friendly silicones that can be made easily spatulable with the help of a thickener (thixo A). This way you can quickly make a mold on the skin. Think of vaseline for the hairs and use plaster cast as a support cap. These silicones are also very suitable for making a casting instead of plaster. For example, you get a rubber hand. Nice for tattoos or halloween ;-)
Acrylic Resin Set: A good alternative for gypsum / modelling plaster. Stronger and more editable end results.
Plaster Bandage: Create a support cap with plaster bandage. Cheap, easy and fast.
Silicone Hand Copy Set: The ready-made set for making an exact copy of a body part in silicone. 
C-Glass Fabric: A beautiful, easy to drape, cloth to make the plaster or acrylic resin end product even stronger and to prevent glass tissue bulges.
Read more
Close