Release agents for the mould or the original item
Release agents facilitate the release of a mold from the original, or the release from a casting from the mold. They can also protect the mold and the original.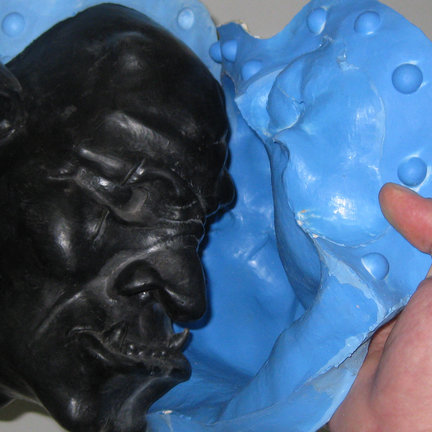 Release agents facilitate the release of a silicone mould or original from a mould.
Normally silicones do not bound to most surfaces. However they tend to mechanically bond to porous surfaces like unfinished wood, or baked clay. In this case we advise to use a release agent and / or a pore filler.
Condensation curing silicones chemically bond to all silicones. Therefore you need to use a release agent when you pour fresh condensation curing silicones in a silicone mould.
Addition curing silicones only adhere to addition curing silicones that are not fully crosslinked. However it is hard to predict when this will be the case. Therefore we advise to use a release agent when pouring addition curing silicones in an addition curing mould.
On a highly absorbent surface, poly vinyl alcohol can be tried as a release agent. Especially because this can be dissolved with a lot of water and therefore leaves less to no discolouration. This is applied to, for example, marlstone.
Polyurethane, epoxy and polyester adhere strongly to many materials except silicone. For a better release, we therefore always recommend a release agent. This can also somewhat protect the silicone mold.
The nature of the release agent determines whether the shape retains its gloss or not. A good choice is therefore important here. Polishable or wax-containing release agents can often be waxed back to shine. Powder-containing release agents give a mattifying effect.
Read more
Close