Jewellery
Molds for jewelery or materials such as synthetic resins for casting jewelry.
€ 9,75

Universally usable crystal clear resin
Moderate working time
Laminating, bonding, castin...

Compare

€ 4,95

Porcelain gypsum is cast into molds, for reliefs, models, ornaments and reproductions of l...

Compare

€ 29,95

Complete Epoxy Resin Art kit
Four colors of your choice.
Easy to use

Compare

€ 8,89

Kneadable Epoxy
Very fine grains
Modelling, repairing, cosplay, jewelry

Compare

€ 12,50

These Silicones are ideal for making soap Moulds, Candle Moulds, Concrete moulds etc.

Compare

€ 7,50

Polyurethane dye can be used during mixing of the polyurethane or epoxy systems which you ...

Compare

€ 9,95

The Acrylic Resin is very strong and can be used for casting models, replicas, ornaments, ...

Compare

€ 21,95

This set consists out of two component addition cure silicone that cures to very soft tr...

Compare

€ 5,95

Wax Paraffin B600 is a good base wax and is used as a casting wax, or mixed with other wax...

Compare

-17% Sale

29,95 € 24,85

Crystal clear epoxy resin
Heat resistant up to 95°CUltra Cast XT epoxy resin ideal for c...

Compare

Shipping

Worldwide

Besteld voor 16 uur (Vrij. voor 14.00 uur) is

Morgen in huis

Always the

best

price guarantee

€ 14,95

This polyurethane is Fast system, is a fast curing system that works well for very small u...

Compare

€ 26,75

This very soft silicone is ideal for casting molds with undercuts and for molds of fragile...

Compare

€ 17,-

This Polyurethane results in a hard plastic that is very suitable for small to medium cast...

Compare

€ 18,25

The Transparent 25 Normal is a 2-component (Poly-Addition) casting silicone which hardens ...

Compare

€ 9,10

Kneadable Epoxy
Somewhat bigger grains, like clay
Modelling, repairing, cosplay, jewelry

Compare

€ 13,95

Clear polyester resin
Encapsulating objects, decoratives
30 minutes working time
Econom...

Compare

€ 21,95

Siliconen Addition Colorless 50 are ideal to make stable flexible moulds.

Compare

€ 13,50

Casting wax for Jewellery is specifically designed as a casting wax for small jewelry.

Compare

€ 11,95

This plaster is perfect for making support caps for molds from alginate or silicone

Compare

€ 26,25

With Plastique Culinair you easily create a food safe mould of almost any shape. Plastique...

Compare

€ 25,95

The silicone addition Green 30 is a 2-component casting silicone, that cures at room tempe...

Compare

€ 5,95

Microcrystalline wax LMP is developed as an alternative to the well-known Shellwax LMP and...

Compare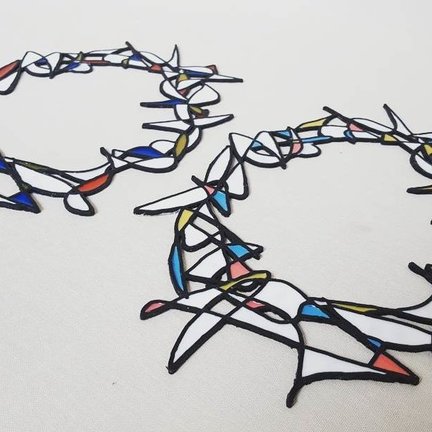 Small jewelery of silver and gold etc are traditionally made using the lost wax method. For this we have beautiful wash our range. Of course we can also supply the gypsum used in cuvettes.
Jewellery can of course also be made of transparent materials, or even flexible. Our clear resins are nice to work and are suitable to pour something in or just to create a nice shape. Use for example the crystal clear epoxy or PU casting systems.
Read more
Close