Soap and candles
Making silicone molds for soap and candles with high precision and good flexibility.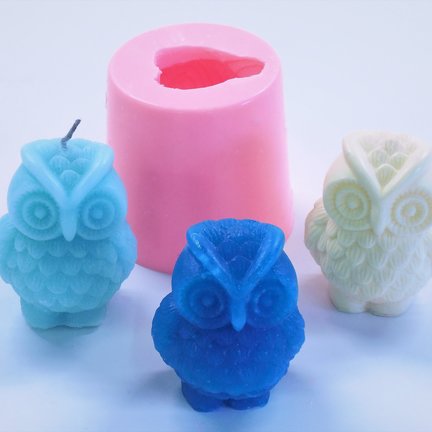 Soap and candle molds
The best candle or soap is obviously a homemade one!
There are quite a few online shops that deliver the ingredients to make your own candles or soaps.
Of course you also need a mould for your candle or soap to be cast in. This mould you can sculpt or copy yourself.
For this it is often best to use silicone. Almost all silicones are suitable to make moulds for candles and soap. The temperatures of the soap and wax are no problem for silicone molds and there are few ingredients for these products that will degrade the silicone moulds later.
One usually uses a flexible silicone with high details for soap and candle moulds, so as to not destroy the cast when de-moulding. You can choose between silicone that bleeds and thus facilitates de-moulding and causes a surface to shine a bit more or a dry silicone that will mimic the original surface better.
If you have any questions, please contact us. We are happy to think along with you!
Also lookherefor manuals and ideas.
| | |
| --- | --- |
| Product | Descripion |
| Silicone condensation 20 | Our own brand condensation silicone. Perfect for quickly creating a liquid or splashable mold. These silicones are very strong and yet detailed. |
| Silicone condensation 20 start kit | Everything you need to start with condensation silicone and make a casting mold or spatula mold! |
| Silicone addition colorless 5 | A very soft addition silicone that lasts for many years, has no shrinkage and makes it easy to demolish fragile objects. Mixing ratio 1: 1 |
| Silicone addition Pink 10 | An eighth addition silicone that will last for many years. although these silicones are soft, they are sturdy enough to give even higher thinner moldsstability. Mixing ratio 1: 1 |
| Siliconeaddition Yellow 25 | A medium-hard silicone that is still flexible and sturdy enough for upright molds. Mixing ratio 1: 1 |
| Silicone addition Green 30 | A somewhat firmer silicone that is still very flexible and perfect for high candle molds. Mixing ratio 1: 1 |
| Silicone addition colorless 50 | The hardest, still castable silicone to make firm yet flexible molds. Mixing ratio 1: 1 |
Read more
Close