Make your own model scale moulds and cast plasti or even tin!
For miniature, silicone moulds with very little shrinkage and high detail are very important. Given the size and often delicate form, it is also wise to take a silicone that is quite soft and flexible.
€ 16,94 € 14,- Excl. tax

Kneadable Epoxy
Very fine grains
Modelling, repairing, cosplay, jewelry

Compare

€ 8,95 € 7,40 Excl. tax

With the Gilding Wax you can give an art piece/object made from porcelain plaster or acrylic resin a beautiful old metallic look.

Compare

€ 4,95 € 4,09 Excl. tax

Porcelain gypsum is cast into molds, for reliefs, models, ornaments and reproductions of large shapes up to small highly detailed shapes.

Compare

€ 9,75 € 8,06 Excl. tax

Universally usable crystal clear resin
Moderate working time
Laminating, bonding, casting and coating

Compare

€ 12,50 € 10,33 Excl. tax

These Silicones are ideal for making soap Moulds, Candle Moulds, Concrete moulds etc.

Compare

€ 12,25 € 10,12 Excl. tax

Voluminous clear castings
Long working time
No vacuum needed

Compare

€ 48,50 € 40,08 Excl. tax

UltraCast XT is a clear resin with a heat resistance up to 95 ° C. Suitable for coating kitchen tops and casting coasters.

Compare

€ 32,- € 26,45 Excl. tax

Master Cast is a clear resin developed for Resin Art and casting photos or buttons.
• Suitable for Resin Art
• Ideal as a coating or photo casting
• High gloss
• Crystal clear
• UV stable
• max. 5 mm thickness

Compare

€ 7,50 € 6,20 Excl. tax

Polyurethane dye can be used during mixing of the polyurethane or epoxy systems which you can find in our webshop.

Compare

€ 11,90 € 9,83 Excl. tax

A1 is a material that consists of a mineral powder combined with a water-based acrylic resin. These two combined will result in a very strong material.

Compare

€ 35,50 € 29,34 Excl. tax

Deep Cast is a clear epoxy specially developed for casting river tables. This epoxy can be cast in one go in quantities up to 12 liters with a thickness of 50 mm.

Compare

€ 37,50 € 30,99 Excl. tax

Total Cast is a clear resin suitable for coating, laminating and casting up to 20 mm thick.
• Crystal clear
• UV stable
• Suitable for coating and sealing a surface
• Suitable for castings up to 20 mm thick
• Can be applied on Canvas,

Compare

Shipping

Worldwide

Besteld voor 16 uur (Vrij. voor 14.00 uur) is

Morgen in huis

30 Dagen

retourtermijn!

€ 17,- € 14,05 Excl. tax

This Polyurethane results in a hard plastic that is very suitable for small to medium castings, fixing molds, foundry models, replicas and prototypes.

Compare

€ 9,95 € 8,22 Excl. tax

Acrylic Resin is very strong and can be used for casting models, replicas, ornaments, models, prototypes and much more.

Compare

€ 43,33 € 35,81 Excl. tax

Various metal powders, such as iron, bronze or copper powder, can be added to, for example, A1 acrylic resin.

Compare

€ 8,25 € 6,82 Excl. tax

This plaster is perfect for making support caps for molds from alginate or silicone

Compare

€ 21,95 € 18,14 Excl. tax

This set consists out of two component addition cure silicone that cures to very soft transparent slightly yellow silicone rubber. This is ideal for masks or for moulds of fragile castings

Compare

€ 14,95 € 12,36 Excl. tax

This polyurethane is Fast system, is a fast curing system that works well for very small up to moderately small castings, prototypes.

Compare

€ 26,75 € 22,11 Excl. tax

Very soft, but strong pink silicone. Ideal for casting soft silicone molds for fragile objects such as candles and soaps.

Compare

€ 24,95 € 20,62 Excl. tax

The Silicone condenation DC 3481 with catalyst 3081 R is idealy suited to make molds for aggressive resins like Epoxy, Polyester and Polyurethane.

Compare

€ 12,50 € 10,33 Excl. tax

NSP is a sulfur-free, somewhat tougher, waxier, sculpting Plasteline, used widely in Fine Arts and Special Effects.

Compare

€ 19,31 € 15,96 Excl. tax

Kneadable Epoxy
Somewhat bigger grains, like clay
Modelling, repairing, cosplay, jewelry

Compare

€ 25,95 € 21,45 Excl. tax

For casting silicone molds and objects. This yellow silicone has an average hardness. Supplied in a set of two components, so you can get started easily.

Compare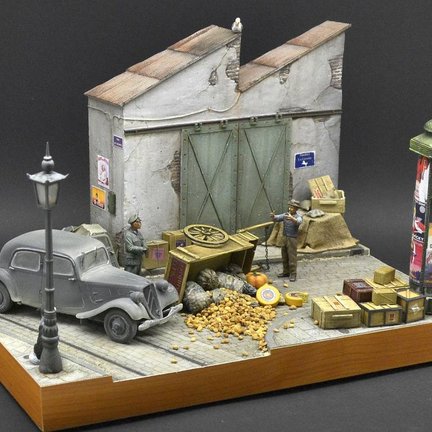 Miniatures are a wonderful way to make fantasy come to live or to showcase historical events.
Usually, silicone molds are used to cast plastics, gips or even tin into. You can also make a copy of your miniature and change it partly to quickly create multiple variations.
Because the dimensional accuracy is important, we recommend the use of addition curing silicones without adding oils or other materials that will (over time) escape from the silicone mould.
Some silicones are able to withstand high temperatures for a short while (up to 380 o) This makes it possible to cast low melting point alloys like tin into them and create your own tin miniature.
However most often miniatures are made from polyurehtane. This is a handy plastic material that is easy to process. After it has cured this material is easy to process further(grinding, drilling, polishing, etc.)
Read more
Close