Making molds
Making molds with silicone and accessories
-12% Sale

€29,99 € 26,50 € 21,90 Excl. tax

✔ 100% Natural, 100% Safe
✔ Everything for copying 2 large hands
✔ 1 x Manual
✔ 2 x 0.5 kg 3D-Gel
✔ 2 x 1 Kg. 3D Plaster
✔ 2 x mixing cup 1900 ml
✔ 1 x Bucket 5 liters

Compare

€ 59,70 € 49,34 Excl. tax

✔ 100% Natural, 100% Safe
✔ Discolored from Pink to White
✔ Relatively strong after gelling
✔ 5.5 minutes de-mold time at 21 ° C Water
✔ Mixing ratio (Weight) [gel: water] 1: 4

Compare

€ 24,50 € 20,25 Excl. tax

✔ Flexible, Strong
✔ Transparent
✔ Shore A 40 (Adjustable)
✔ Low shrinkage (<0.1%)
✔ 60 minutes working time (Adjustable)
✔ Mixing ratio (Weight) 100: 10

Compare

€ 9,95 € 8,22 Excl. tax

✔ 100% Natural, 100% Safe
✔ Discolored from Pink to White
✔ Relatively strong after gelling
✔ 5.5 minutes de-mold time at 21 ° C Water
✔ Mixing ratio (Weight) [gel: water] 1: 4

Compare

€ 22,50 € 18,60 Excl. tax

✔ Flexible, Strong, Universal
✔ White, Good Fluid, Bleeding
✔ Shore (A) 23 ~ 28
✔ Low shrinkage (<0.3%)
✔ 100 ~ 120 minutes working time
✔ Mixer. (Weight) 100: 2

Compare

€ 24,50 € 20,25 Excl. tax

✔ Flexible, Strong
✔ Transparent
✔ Shore A 15 (Adjustable)
✔ Low shrinkage (<0.1%)
✔ 60 minutes working time (Adjustable)
✔ Mixing ratio (Weight) 100: 10

Compare

€ 26,75 € 22,11 Excl. tax

✔ Flexible, Strong
✔ Pink
✔ Shore (A) 10 (Soft)
✔ Low shrinkage (<0.1%)
✔ 40 minutes of working time
✔ Mixing ratio (Weight) 100: 100

Compare

€ 19,90 € 16,45 Excl. tax

✔ 100% Natural, 100% Safe
✔ Discolored from Pink to White
✔ Relatively strong after gelling
✔ 5.5 minutes de-mold time
✔ Mixing ratio (Weight) [gel: water] 1: 4

Compare

€ 46,25 € 38,22 Excl. tax

✔ Flexible, Strong, Red-Brown
✔ Good resistance to Resins
✔ Shore (A) 28 (Medium Hard)
✔ Low shrinkage (<0.1%)
✔ 90 minutes working time
✔ Mixing ratio (Weight) 90:10
✔ Suitable for tin casting
✔ Food safe

Compare

€ 26,75 € 22,11 Excl. tax

✔ Flexible, Strong
✔ Translucent
✔ Shore (A) 5 (Very soft)
✔ Low shrinkage (<0.1%)
✔ 30 minutes working time
✔ Mixing ratio (Weight) 100: 100

Compare

€ 19,95 € 16,49 Excl. tax

✔ Elastic, Strong, High details
✔ Beige, Fast, High pulling power
✔ Shore A75
✔ Castings 1mm <> 30mm
✔ 15 minutes working time
✔ Mixing ratio (Weight) 100: 40

Compare

€ 29,95 € 24,75 Excl. tax

✔ Flexible, Strong, High Resin Resistance
✔ Beige, Good Fluid, Non-Bleeding
✔ Shore (A) 18 ~ 21
✔ Low shrinkage (0.2 ~ 0.4%)
✔90 ~ 120 minutes working time
✔ Mixing ratio (Weight) 100: 5

Compare

Shipping

Worldwide

Ordered before 4 pm (Friday before 2 pm) is

Shipped same Day

30 Days

return period!

€ 24,50 € 20,25 Excl. tax

✔ Flexible, Very fast, Strong
✔ Transparent
✔ Shore (A) 40 (Adjustable)
✔ Low shrinkage (<0.1%)
✔ 2 minutes working time (Adjustable)
✔ Mixing ratio (Weight) 100: 10

Compare

€ 34,95 € 28,88 Excl. tax

✔ Everything to make a silicone hand
✔ 1 x Manual
✔ 500 gram Silicone Addition Transparent 15
✔ 50 grams Fast silicone hardener
✔ 50 grams of Silicone colorant
✔ 0.5 kg Alginate 3D gel
✔ Mixing cup 1900 ml. + 1100 ml.
✔ Mixing

Compare

€ 0,- € 0,- Excl. tax

✔ Flexible, Very fast, Strong
✔ Transparent
✔ Shore (A) 15 (Adjustable)
✔ Low shrinkage (<0.1%)
✔ 2 minutes working time (Adjustable)
✔ Mixing ratio (Weight) 100: 10

Compare

€ 26,75 € 22,11 Excl. tax

✔ Flexible, Strong
✔ Translucent
✔ Shore (A) 50 (Hard)
✔ Low shrinkage (< 0.1 %)
✔30 minutes working time
✔ Mixing ratio by weight: 100:100

Compare

€ 26,25 € 21,69 Excl. tax

✔ Kneading compound, Strong, Green
✔ FDA Approved
✔ Shore (A) 45 (Hard)
✔ Low shrinkage (<0.1%)
✔ 10-15 minutes working time
✔ Mixing ratio (Weight) 100: 100

Compare

-11% Sale

€17,50 € 15,50 € 12,81 Excl. tax

✔ 100% Natural, 100% Safe
✔ Everything for copying 2 children's hands
✔ 1 x Manual
✔ 1 x 0.5 kg Alginate 3D gel
✔ 1 x Porcelain dips 1 kg
✔ 1 x Mixing cup 550 Ml
✔ 1 x Mixing cup 1100 Ml
✔ 1 x Bucket 5 liters

Compare

€ 38,95 € 32,19 Excl. tax

✔ Complete starter kit
✔ Contains the popular Condensation 20 silicones and more
✔ Ideal for soap molds, candle molds or concrete molds

Compare

€ 9,95 € 8,22 Excl. tax

✔ 100% Natural, 100% Safe
✔ Discolored from Purple to Blue
✔ Suitable for bust, belly print, face
✔ Relatively strong after gelling
✔ 9 minutes de-mold time at 21 ° C Water
✔ Mixing ratio (Weight) [gel: water] 1: 4

Compare

€ 25,95 € 21,45 Excl. tax

✔ Flexible, Strong
✔ Yellow
✔ Shore (A) 25 (Moderately Hard)
✔ Low shrinkage (<0.1%)
✔ 60 minutes working time
✔ Mixing ratio (Weight) 100: 100

Compare

€ 51,- € 42,15 Excl. tax

✔ 100% Natural, 100% Safe
✔ Everything for making a 4 hands wreath
✔ 1 x Manual
✔ 2 x 0.5 kg Alginate 3D gel
✔ 1 x 5 kg Porcelain chips
✔ 1 x Bucket + lid 5 liters
✔ 1 x Plaster bandage 20 cm x 200 cm

Compare

€ 29,95 € 24,75 Excl. tax

✔ Flexible, Strong, Fast
✔ Beige, Good Fluid, Non-Bleeding
✔ Shore (A) 23
✔ Low shrinkage (0.2 ~ 0.4%)
✔ 30 minutes working time
✔ Mixing ratio (Weight) 100: 5

Compare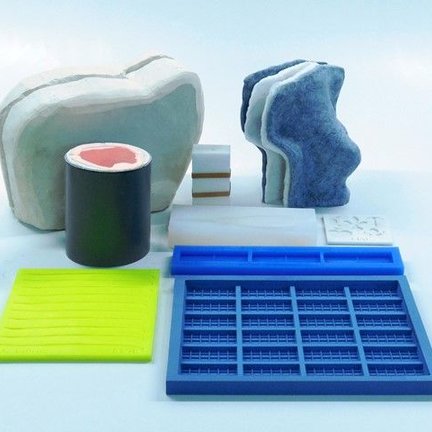 Molds are used for many things. Be it the production of statues in concrete, cement, polyurethane, polyester, etc. or even making sweets. These molds are often made of silicone because of its flexibility and good resistance to aging by UV and temprature. Some silicone can withstand temperatures of 380 ° C for short periods of time and are therefore suitable for metals with low melting point like some tin compounds.
Silicones come in many different types, from one component silicone sealant to two or more components liquid silicone which harden at room temperature. In industrial applications one often uses silicone compounds which are processed with presses or injection machines at higher temperature.
For many applications, a two component room temeprature hardening silicone will do the trick, but for added strength, we recommend the use of silicone compounds (silicone paste) which usually harden at higher temperatures.
Moulds are often made via the casting process in which the original is placed in a container and silicone is poured over it. With more demanding or bigger models however it is easier to make the silicone paste like and brush it against the model. The silicone skin thus obtained has got a lot of detail but no dimensional stability. For this you would need a support hull made e.g. form epoxy or Acrylic resin.
Read more
Close